Walrus Audio Monument Harmonic Tap Tremolo Craftsman Series Rare Limited Edition Leather Wrapped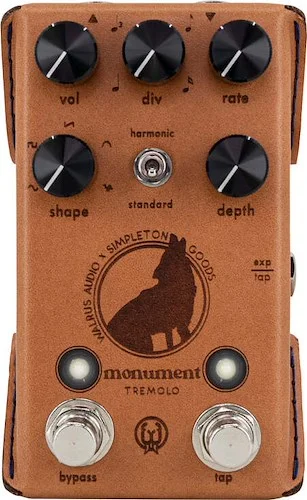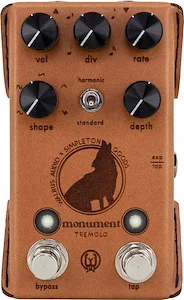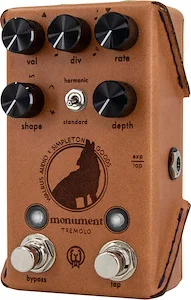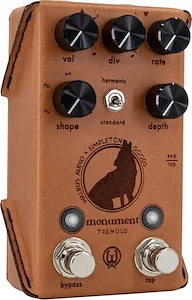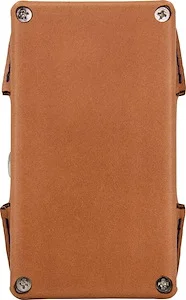 Product Description
A truly collectible piece for the ultimate Walrus fan, we have collaborated with Simpleton Goods in Oklahoma City, to create the Craftsman Series. Featuring custom laser-engraved art, each pedal is wrapped in high-grade leather that has been hand-cut and hand-stitched by hand one at a time.

The Craftsman Series features Ages Five-State Overdrive, ARP-87 Multi-Function Delay, Deep Six Compressor, Fathom Multi-Function Reverb, Julian Analog Chorus/Vibrato, and Monument Harmonic Tap Tremolo. Please note that due to the soft nature of leather materials your product may be prone to showing signs of wear such as scuffs or friction marks as you use them. In most cases treating your product with a leather preservative can not only add life to your product but can reverse some surface scuffs. With organic material, not every pedal will look identical but will have its own character and may have small things like spots or wrinkles in the leather itself.

The Monument returns in a smaller form factor with new features, like assignable expression control and rate ramp up.

Changes to the V2 are as follows:

• Converted to smaller enclosure
• Expanded capability of side jack: now supports external tempo or can function as expression control over Rate, Depth, Shape, or Tap Multiplier and is assignable on the fly. See manual for details.
• Improved tremolo response across all rates.
• Top mounted jacks.

Inspired by the beautifully jagged, red-sand desert landscape of Monument Valley, the Monument Tremolo is both a harmonic, and standard tremolo that produces a rich, luscious, warm pulsating modulation capable of peaks and valleys as smooth or as jagged as the real ones that our dear mother nature created long ago.

With different combinations of the rate, division and shape knobs and tap tempo, everything from traditional tremolo to inspiring unique waveforms will help you carve new paths that you won't hear anywhere else.

Harken back to vintage tones inspired by Fender Brownface amps in Harmonic mode. A low-pass and high-pass version of your guitar signal is modulated opposite of each other, or 180º out of phase (high and low frequencies rise and fall opposite of each other). The result is a warm, almost "chewy" tremolo.

The Division knob can be set to quarter, triplet, eighth and sixteenth.

Wave shapes can be controlled via the Shape knob. You can move between Sine, Square, Ramp, Lumps and Monument Mode (random).

A special feature on the Monument is the bypass switch also has a momentary function. When the switch is in off position, press and hold to temporarily activate the effect to add a moment of texture. Releasing the switch turns the effect off.

When the pedal is on, press and hold the bypass switch to ramp up the tremolo rate. Release the switch and the rate will ramp down to previously set tempo.

Setting the depth knob at 0 and the volume knob above unity creates a clean boost.

Specs:

- The Craftsman Series Monument comes wrapped in a light tanned leather, hand stitched with black twine with custom laser engraved artwork.
- Custom leather work all done by Tyler Carder at Simpleton Goods located in Oklahoma City, OK.
- 9V DC, center negative, 100mA min – 5.1 x 2.9 x 2.37 inches.
- The use of an isolated power supply is recommended for powering all Walrus Audio Pedals.
- Daisy chain power supplies are not recommended. Power supply not included.