Walrus Audio Julia Analog Chorus/Vibrato Craftsman Series Rare Limited Edition Leather Wrapped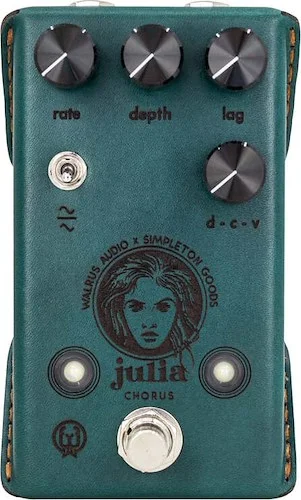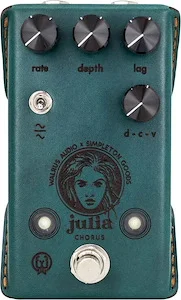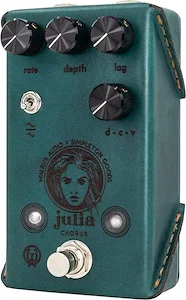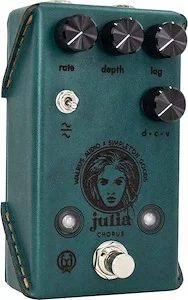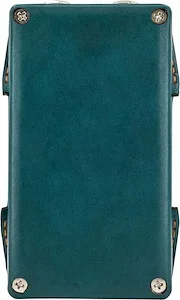 Product Description
A truly collectible piece for the ultimate Walrus fan, we have collaborated with Simpleton Goods in Oklahoma City, to create the Craftsman Series. Featuring custom laser-engraved art, each pedal is wrapped in high-grade leather that has been hand-cut and hand-stitched by hand one at a time.

The Craftsman Series features Ages Five-State Overdrive, ARP-87 Multi-Function Delay, Deep Six Compressor, Fathom Multi-Function Reverb, Julian Analog Chorus/Vibrato, and Monument Harmonic Tap Tremolo. Please note that due to the soft nature of leather materials your product may be prone to showing signs of wear such as scuffs or friction marks as you use them. In most cases treating your product with a leather preservative can not only add life to your product but can reverse some surface scuffs. With organic material, not every pedal will look identical but will have its own character and may have small things like spots or wrinkles in the leather itself.

The Julia is a fully analog, feature-rich chorus/vibrato packed with a wide array of tonal landscapes begging to be explored. Updated for 2020, Julia now has top mounted jacks, soft switch bypassing and updated art from Adam Forster.

Julia is able to produce mild smooth chorus, to seasick vibrato and everywhere in between. With controls like Lag, Dry-Chorus-Vibrato Blend, and selectable analog LFO wave shapes, you are able to dial in all types of classic and unique chorus/vibrato sounds; some settings giving a familiar feel while others are not found on traditional chorus pedals.

A special feature of the Julia is the Lag control. The Lag knob lets you set the center delay time that the LFO effect modulates from. From smooth and tight modulation at lower settings, to warbling detune at maximum, the Lag knob adds a new dimension to the traditional Chorus/Vibrato landscape.

D-C-V KNOB

- While most chorus/vibrato pedals offer a toggle to go between the two effects, we've provided a knob to blend between Dry, Chorus, into Vibrato (labeled d-c-v on the pedal). The Dry-Chorus-Vibrato Blend changes the ratio of dry to wet signal sent to the output. At minimum, you will hear no effect. Set it to noon for equal parts dry and wet – the traditional chorus setting. Set it to maximum for 100% wet – the traditional vibrato setting. Explore the ground between minimum and noon for adding slight amounts of movement to your dry signal (also making the Julia great on bass guitar). Explore the ground between noon and maximum for all sorts of unheard chorus/vibrato combinations.

Specs:

- The Craftsman Series Julia comes wrapped in dark teal leather, hand stitched with tan twine with custom laser engraved artwork.
- Custom leather work all done by Tyler Carder at Simpleton Goods located in Oklahoma City, OK.
- 9V DC, center negative, 100mA min – 5.1 x 2.9 x 2.37 inches.
- The use of an isolated power supply is recommended for powering all Walrus Audio Pedals.
- Daisy chain power supplies are not recommended. Power supply not included.