Tracktion Chop Suey (Download)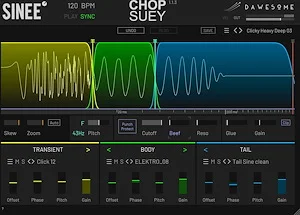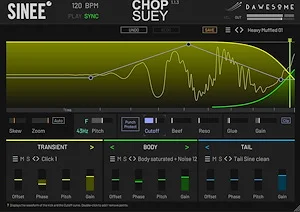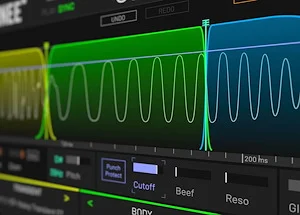 Product Description
Ultimate Workflow
All music makers know a kick drum is one of the most essential elements of beat-driven music and getting it to work well with the bass is fundamental to a successful track. Musicians are always looking for the perfect kick, one that combines a nice transient with a cool punch and a boomy tail.
Most applications layer sound. This rarely works for kicks, resulting in a weak, muddy mess.
Chop Suey is the solution: this versatile plugin allows users to sequence rather than layer elements thus eliminating any phasing issues and leaving a kick sound that has a crisp transient, punchy body, and a thundering end.
Chop Suey is a kick drum sampler and synthesizer with a unique layering workflow that enables you to create your own kick drums with up to 3 components (transient, body, and tail) in a linear, temporal sequence. Its intuitive drag-and-drop functions for sample import/export make Chop Suey a smooth-running sample editor for full visual and parametric control over your kick samples. With a huge library of samples, Chop Suey enables almost infinite possible combinations of modern and classic kick drums - easily, quickly, and intuitively.
Edit with Surgical Precision
Chop Suey is a visual precision tool that allows users to finely edit each element of the sound, shaping individual parts without affecting or weakening the others. The plugin workflow has been designed to respond quickly to parameter variations meaning it can react rapidly to changes in resonance consequently minimizing zipper noises or artifacts.
Designed with Top Producers
Chop Suey is the result of a powerful collaboration between Peter V aka Dawesome (creator of Tracktion's Abyss) and Björn Torwellen (German techno DJ, Producer, and CEO of SINEE Institute for Electronic Music). With Björn's decades of experience in kick drum design and intensive feedback from producers and artists across the dance music scene, Chop Suey excels in building kicks that magically draw you to the dance floor while being fun and inspiring to use.
Made by music makers, for music makers Chop Suey is a sound design powerhouse that offers everything needed to build complex, hard-hitting bass drums for House, Techno, Hip-Hop, and all other styles of dance music.
Requirements:
mac:
ram: 0
disk: 0
version: 10.15 or later
notes: 64-bit Intel or Apple Silicon
internet_required: False
support: 64_bit
plugins: VST-3,AU
windows:
ram: 0
disk: 0
version: 10 or later
internet_required: False
support: 64_bit
plugins: VST-3
Licensing: