Pedalboard Buffer Interface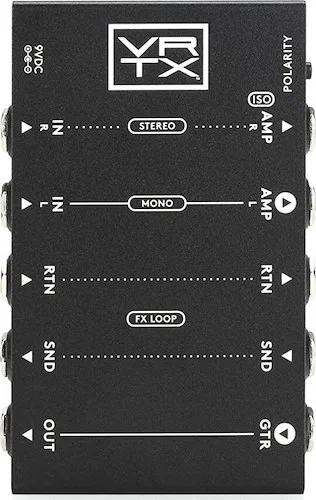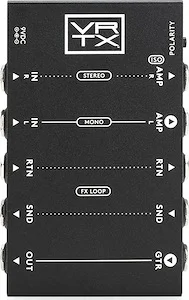 Item Unavailable
To get notified when this product becomes available, click the button below. We'll send you an email when it's back in stock.
Product Description
VERTEX BUFFERS NOW AVAILABLE TO THE MASSES!
For over a decade, every buffer that's come out of Vertex Effects has been custom made, bespoke, for the pedalboard it was designed for or the customer that ordered it. Needless to say, our buffers were very limited, with only a few hundred made over the last ten years. Over that time, and through hundreds of custom buffer interfaces being made, several common applications for buffer combinations and routing emerged as the most common uses as it comes to placing buffers on a pedalboard for the most optimal results. Routing schemes such as mono, stereo, audition loops (inserts), four-cable method, five-cable method, and wet/dry/wet were all common requests from our customers, but there was never an all-in-one solution that provided all of these options for buffering and routing your pedalboard in a pedalboard-friendly enclosure - until now.
Introducing the Vertex Buffer Interfaces and Buffer Modules. The first all-in-one solution that covers 99% of all pedalboard routing options, whether you have multiple amps, amps with effects loop, a wet/dry/wet rig, an impedence sensitive fuzz, or want to side-chain pedals off the board in the middle of your signal path with an insert loop, these boxes have a solution for you that won't compromise on tone.
WHY ARE OUR BUFFERS BETTER?
Firstly, our buffers are designed to have no sound of their own - totally transparent, no color, no EQ, no distortion - just your tone as though you plugged your guitar directly into your amp with a 10ft cable (even if you're running a dozen or more pedals between the guitar and amp with over 100 ft. of cable). So often buffers in our industry will be described by the manufacturers with words like "warm" or "fat" when really the buffer should NOT be imparting anything to the sound other than 1) loading the guitar pickups properly with the same loading as your guitar would see if plugged into a tube amp and 2) converting the signle to low impedence, driving the line so it is the least susceptible to environmental factors that might alter the tone. Unfortunately, 99% of the buffers available on the market don't do this - they add a color to the signal and lack the proper specifications to dive even 20 feet of cable without introducing artifacts into the sound.