Highlights from "Wicked"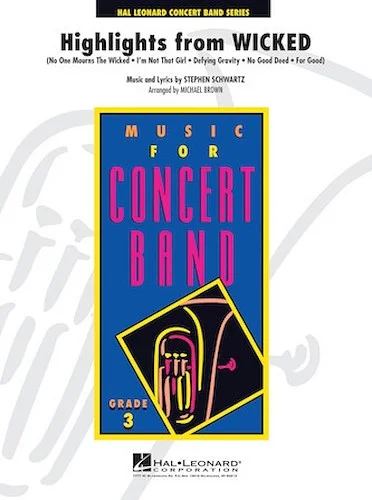 Product Description
Currently the hottest show on Broadway, this engaging story of your two favorite witches from Oz features terrific songs destined to become classics. This medley includes: No One Mourns the Wicked, I'm Not That Girl, Defying Gravity, No Good Deed and For Good.
Product Features
Level: 3
Instrumentation: Concert Band
Voicing: SCORE+PARTS
Customer Reviews
Submit A Review
1 Review
5 out of 5 stars
I direct a local community band that tries to keep current with musical selections while still keeping connected with the "tried and true" repertoire of years past.   Pairing "Highlights from Wizard of Oz" with "Highlights from 'Wicked", and (though I don't have the arrangement), music from "The Wiz", makes a wonderful set that spans time from the 1930's to the present.     As for Capital Music Gear, after doing business with them for about a year now, they are my "go to" source of good music.