GamechangerAudio PLASMA Eurorack Module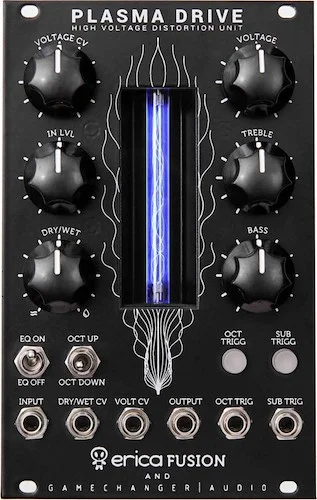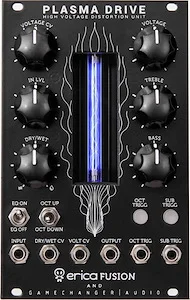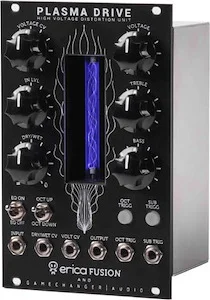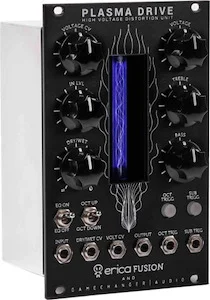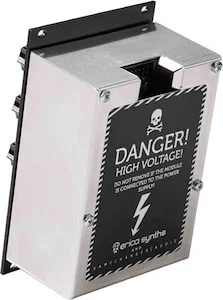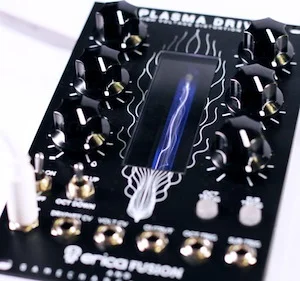 Product Description
PLASMA eurorack module "PLASMA Drive" is a collaboration between Gamechanger Audio and Erica Synths, an established and recognized modular synthesizer brand from Latvia. Erica Synths are a team of visionaries, engineers and musicians who create modules and instruments that are different in terms of sound, looks and functions.
Similar to PLASMA Pedal, the PLASMA Eurorack Drive boosts audio signal to 3000V and transforms it into a series of continuous high-voltage discharges in a xenon-filled tube. In essence – you are playing a lightning bolt of electricity, and the electrical discharges produced by your instrument are instantly converted back into an analogue audio signal. The result – a quick, responsive, and extremely heavy distortion with tons of unique character!
The PLASMA Drive Eurorack Module brings the sounds of the PLASMA Pedal to the modular world. The functions of the pedal are complemented with CV control over the level of distortion and a dry/wet mix. The Module introduces tracking oscillators for a new Octave Up & Two-Octave Down function, thus adding even more harmonics to the original signal. Tracking oscillators can be switched on/off manually or via trigger signals. The PLASMA Drive module is powered with conventional eurorack PSU ribbon cable and the power consumption is around 250mA.

Features:

Unique Harmonic Saturation
PLASMA converts your instrument's signal into a rapid series of electric discharges, which results in a large amount of non-linear harmonic saturation that causes extremely rich and responsive attacks, and brings out screeching sharp overtones and harmonics. These harmonic artifacts, produced as a by-product of the high voltage discharge are uncommon in traditional signal amplification, and therefore PLASMA Pedal's distortion is unlike anything you have heard before.

Natural Noise Gate
As soon as you stop playing the electrical discharge within the gas-filled tube is interrupted, and the pedal will not produce any output signal at all. This feature allows you to achieve extreme contrasts between individual notes.

Blend
Blend in your clean sound or your already overdriven sound to produce unique dirty sounds. Experiment with gated PLASMA sound and unaffected clean sound mixed together, can be assigned to CV.

Extremely Wide EQ
The PLASMA pedal loses the original dry input signal and creates a new signal from fluctuations in the electromagnetic field surrounding the gas-discharge tube. This allows for a very wide range of frequencies. Boost and cut the lows and highs with the dedicated knobs. The EQ can be switched to affect only the wet sound or dry sound, which is especially suitable for bass.

Octave Function
Plasma Drive features tracking oscillators for octave up, octave down, and mixed mode. Octave down mode can be switched to 2 octaves down to add even more harmonics to the distortion. These features are CV assignable.
Product Features
Audio input level: up to 20V ptp
EQ low freq boost/cut: ±9dB, 600Hz corner freq.
EQ hi freq boost/cut: ±10dB, 1.5kHz corner freq.
CV input level: -10V – +10V
Panel width: 16HP
Panel height: 3U
Module depth: 45 mm, 50 mm with the protective casing
Peak power requirement: 200mA@+12V, 100mA@-12V