Cable DIY Kit with Square Plugs SP500 (10) and Lava Cable Black (10 ft.)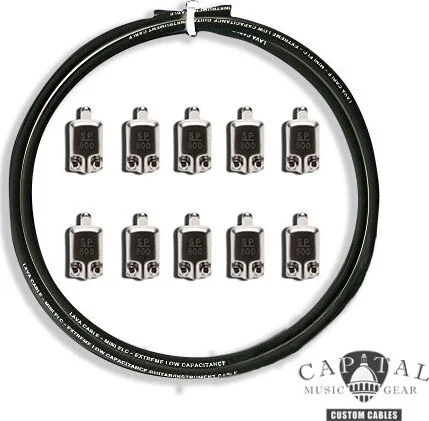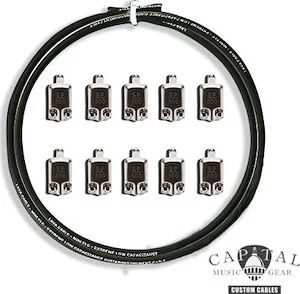 Item Unavailable
To get notified when this product becomes available, click the button below. We'll send you an email when it's back in stock.
Product Description
Cable DIY Kit with 10 Square Plugs SP500 and 10 ft. of Lava Cable in Black Color

Featuring the Square Plug SP500, these are currently the world's smallest solder-type pancake connector. It features a very low foot-print without sacrificing strain relief.
The low-profile of the Square Plug SP500 allows the connectors to be plugged in directly next to one another, meaning they can be used on pedal switchers and stereo inputs/outputs. The plug is compatible with any 5.8mm (0.23") cable diameter or less.
SP500 is compatible with the following popular switching systems: VoodooLab Pedal Switcher, PX8, PX8 Plus, HEX | RJM PBC, Mini Effect Gizmo | MusicomLab 6M, 62M, 8L, MKIV, MKV | Providence Audio PEC-4V, PEC-2 | IdeaBench Switcheroo | Carl Martin Octaswitch, Octaswitch mkii | Vinteck V8 | Cusack Music: PBT9, PBT6
Not Compatible with The GigRig G2 and Boss ES5/8

The cable is specifically designed as a patch cable. It features 99.99% Pure Oxygen Free Copper (OFC) for both conductor and its 98% braided shield and has capacitance of 28 pF per foot that is in the sweet spot range for instrument cables. With small outer diameter of .195" it is extremely flexible and ideal as a DIY cable for pedal boards and racks. It easily solders to all pancake style plugs and regular 1/4" plugs on the market. Like all Lava Cable products, it's Made in the USA. It comes in Black, Red, Orange, White or Carolina Blue.

Product Features
10 SP500 Plugs
10 ft Black Color Cable