Blue Cat MB-7 Mixer (Download)
The multiband mixing console and VST/AU host with built-in effects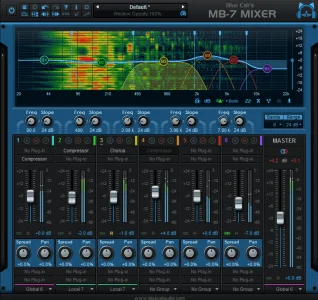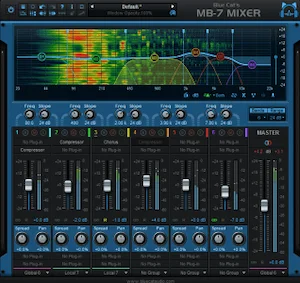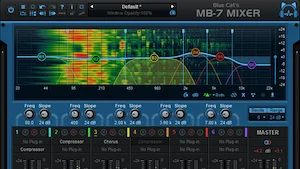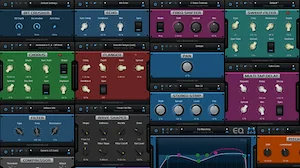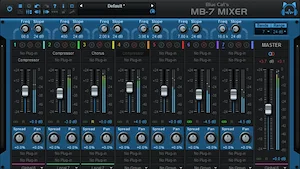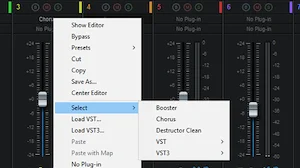 Product Description
Blue Cat's MB-7 Mixer is a unique plug-in that splits the signal into several frequency bands and lets you re-mix and processes them as if they were separate tracks: change levels, apply panning, add built-in effects or even third-party plug-ins.
Each band proposes controls that can be found on a mixing console, and more: bypass, mute or solo each band separately to isolate frequencies you want to work on, adjust the gain, the "stereoness" and the position in the stereo field. When manipulating the stereo image, a master mono switch also lets you check mono compatibility.
You can also apply different audio effects to each band to achieve any kind of spectral manipulation: the plug-in can operate as a multiband plug-ins host. You can process each band independently with your favorite VST, VST3 or Audio Unit plug-ins or choose from any of the 28 built-in effects! Up to four plug-ins can be loaded on each band, pre or post-fader. It also includes 25 built-in audio effects that can be inserted in each plug-in slot. Latency compensation presets management, undo/redo integration, and individual plug-in bypass are included for optimal operation.
The plug-in also proposes unique linking and grouping options thanks to our multi-instance technology. You can link bands together within a single instance or between several instances of the plug-in on different tracks. This lets a simple fader control as many bands on as many tracks as you want. This is particularly useful when adjusting the placement or the balance of several competing tracks.
And as usual with Blue Cat Audio, the plug-in provides comprehensive visual feedback to let you know what's exactly going on: for each channel, monitor the spectrum, the in/out levels, and the frequency response.
Thanks to its advanced MIDI and automation input capabilities, when combined with our other plug-ins, Blue Cat's MB-7 Mixer is capable of advanced side-chaining features that really unveil its potential. Check out our MB-7 Mixer Tutorials for more details.
If you are looking for a simpler plug-in to host VST, VST3, and Audio Unit plug-ins, please try Blue Cat's PatchWork. If you are looking for a multiband dynamics processor that can be combined with this plug-in for side chain effects, check out the Blue Cat's MB-5 Dynamix plug-in. Also, any Blue Cat Audio plug-in is compatible and can be hosted by this plug-in.
Requirements:
mac:
ram: 0
disk: 0
version: Mac OS 10.7 or newer
notes: An Intel processor
internet_required: False
support: 32_bit,64_bit
plugins: VST-3,AU,AAX
windows:
ram: 0
disk: 0
version: Windows Vista, Windows 7, 8 or 10
notes: entium 4 or newer
internet_required: False
support: 32_bit,64_bit
plugins: VST-2,VST-3,AAX
Licensing:
Product Features
Multiband mixing console: adjust the levels, panning and "stereoness" of each band separately.
Multiband VST, VST3 and Audio Unit Host: insert third party VST, VST3 and AU plug-ins and process each band independently.
30 built-in effects for multiband processing: EQ, filters, pitch & frequency shifter, delays, reverb, modulation effects, compressor, gate, bit crusher, wave shaper and more.
Multicore processing support.
External side chain support for sub plug-ins on each band.
Parameters Mapping: map sub plug-ins parameters to automate them or use a control surface.
Flexible Audio routing: connect sub plug-ins i/o to any audio channel for multi-mono effects or creative side chain.
Pre and post fader VST/VST3/AU plug-in inserts, with full latency compensation.
Up to 7 bands, with crossover filters from 12 to 192 dB/Oct for optimal separation.
Multiple instances linking: group bands within a single instance or between multiple instances of the plug-in. Modify the spectrum on multiple tracks with a single slider.
Bypass, mute, solo on every band.
Mono switch on master for mono compatibility check.
Dual Mode: independent left and right or mid and side channels control.
Complete visual feedback with real time response curves, spectrogram, and levels display for each band, CPU workload meter.
Side chaining made easy: a unique way to perform multi-band side chain compression, ducking, gating and much more.
No additional latency.
Available in most plug-in formats for Mac and Windows.
Full MIDI control and automation support, MIDI Learn.
No CPU load on idle: processing shuts down when fed with silence (optimal CPU usage).
Customizable user interface with transparency & zoom.