Two Pieces: La Campanella and Moto Perpetu - Masterworks for Violin Series for Violin and Piano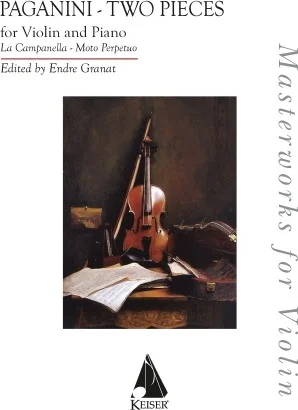 Product Description
"Contains La Campanella, Op.7 and Moto Perpetuo, Op.11.
Niccolo Paganini gave the premiere performance of his Second Violin Concerto at La Scala in Milan, 1827. The success of the performance was such that the last movement of the concerto was repeated. The subtitle of this movement is 'La Campanella' (The little bell) because of the sound the harmonics in this work produce. Paganini known for his pyrotechnics uses double harmonics and left hand pizzicato lavishly in this movement.
Moto Perpetuo is one of Paganini's most popular works. Dozens of transcriptions exist for a variety of instruments, from marimba to double bass, as well as for orchestra, where all first violins play the solo part. The 3,032 sixteenth notes in this four-minute composition require formidable skill and endurance from the performer."
Product Features
Instrumentation: Violin
Instrumentation: Piano Accompaniment