Kangra Filter Fuzz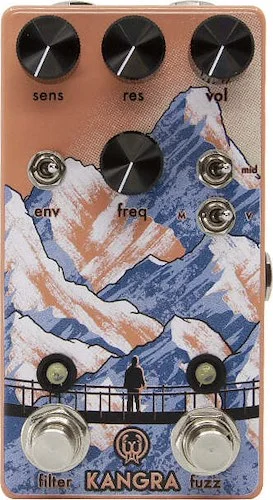 Item Unavailable
To get notified when this product becomes available, click the button below. We'll send you an email when it's back in stock.
Product Description
The Kangra Filter Fuzz is a true bypass, two-in-one pedal that provides a thick and spatty octave fuzz, and a psychedelic filter thats great for sweeps, frequency boost or even envelope filter sounds.
Product Features
The art was inspired by a once in a life time expedition Jared Scharff took to the Kangra Valley near the Himalaya Mountains. It was there his journey inspired new ideas that can only approximated by the Kangra Filter Fuzz.
The pedal comes in Prismatic Powder "Peach Ice Cream" enclosure with art by Adam Forster in white and blue inks.
The diecast enclosure's exact size is 4.77" x 2.6" x 1.39".
Power requirements are 9VDC, Center negative, (100mA minimum).
The use of an isolated power supply is recommended for powering all Walrus Audio Pedals. Daisy chain power supplies are not recommended.
Power supply not included.