Gotoh 3-On-A-Plate 39 mm Classical Tuning Machines Gold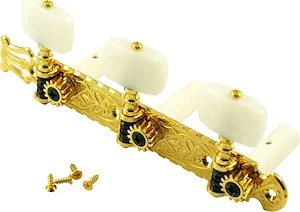 Product Description
Gotoh® 3-On-A-Plate 39 mm Classical Tuning Machines Gold
Deluxe Gold classic tuners w/white pearloid buttons, Engraved plate w/lyre design. Comes with mounting screws. Post spacing 39mm 15:1 gear ratio Manfuactured by Gotoh®.
Direct Replacement for the Tamura Classical P-40.
Customer Reviews
Submit A Review
1 Review
5 out of 5 stars
What I wanted at a good price!   Can you require anything else?