9938-30185-00 AudioScore Ultimate
(Download)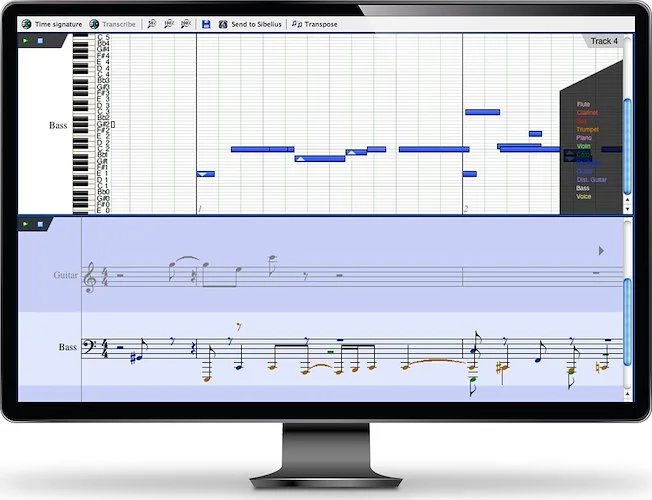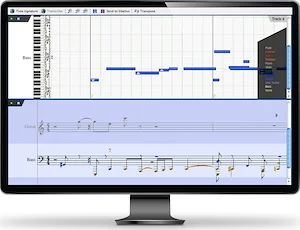 Product Description
Transcribe music recordings and performances into sheet music
AudioScore Ultimate 8 is the full-featured version of the AudioScore Lite audio transcription software provided with Sibelius | Ultimate . With AudioScore Ultimate 8, you can easily and quickly turn CD tracks, MP3s, MIDI files, and even your own vocal and instrumental performances into detailed scores. It's the ultimate composition secret weapon in the Sibelius workflow.
Get higher accuracy
In version 8, AudioScore's audio recognition engine has been completely redesigned to provide better musical precision and detail. Improves understanding of multiple repetitions. Minimize distractions from drum and percussion sounds. And experience superior pitch recognition and note separation.
Work fast and easy
Easily create scores based on the arranged notes. AudioScore automatically detects all instrumentation and creates a score with staves (marked for each part). Play back a selection of notes with high-quality audio. Save sheet music in PDF format for easy printing later. Open MIDI files to automatically create high-quality printable scores. Can be used with Sibelius 8.
Transcribe CDs and MP3s
With AudioScore Ultimate, you can open CD tracks or MP3 files and transcribe them into musical scores. Using the smartest technology available, the software can convert up to 16 instruments or notes to multiple staves at a time, with up to 4 articulations per score. Once the music is transcribed, you can send it directly to Sibelius, or save it as a MusicXML, NIFF, or MIDI file for use in most other music programs.
View, edit and playback nuanced performances
With AudioScore Ultimate, you can view, play and edit the most nuanced aspects of a performance, such as subtle changes in pitch, volume and timing. Plus, create new versions of your music using the MIDI instrument of your choice. AudioScore can analyze acoustic music in great detail and play it back in an extremely realistic way.
Create a score manually
AudioScore Ultimate gives you a set of notes that you can quickly split, join, scale, and pitch—purely on a performance level, without worrying about rests and technical details like key signatures, accidentals, value-added dots , note connections, ties, and more.
Requirements:
mac:
cpu: Intel dual-core or quad-core 2.66 GHz or faster processor
ram: 1
disk: 1
version: Mac OS X 10.6.7 or later
internet_required: False
support: 32_bit,64_bit
plugins: AAX
windows:
cpu: IBM-compatible Pentium IV
ram: 1
disk: 1
version: Windows Vista, Windows 7 or 8
internet_required: False
support: 32_bit,64_bit
plugins: AAX
Licensing:
Product Features
Opens polyphonic MP3s and CD tracks and locates up to 16 notes/instruments playing at a time
Creates notation for up to 4 voices per staff and 2 staves per instrument. Transcribes notes and rests as short as 32nd note. Also triplets, duplets, key signatures and clefs
Sing or play into your computer using a microphone attached to the microphone or USB socket on your computer (monophonic performances only). AudioScore Ultimate recognizes the notes, nuances and rhythm in real time
Opens MIDI files to automatically create professional scores
Send the output direct to Sibelius or save NIFF (.nif), MusicXML (.xml) and PhotoScore (.opt) files for opening in other notation programs. Also saves scores as PDFs for publishing.
Converts polyphonic MP3s, CD tracks and wave audio (.wav) files to MIDI (.mid), NIFF (.nif), MusicXML (.xml) and PhotoScore (.opt) files
View and edit your performance on a staff or piano roll format with instant pitch feedback (note and frequency)
Pitch recognition range F0 to C8 (22Hz to 4186Hz)
Timing accuracy down to 1/86th of a second
Pitch accuracy 0.3Hz (about 1/100th of a semitone at A4)
MPEG Layer-3 audio coding technology licensed from Fraunhofer IIS and Thomson.
LAME encoder licensed under the LGPL - www.mp3dev.org.